PCB005 BGA Variable Pitch and Array Board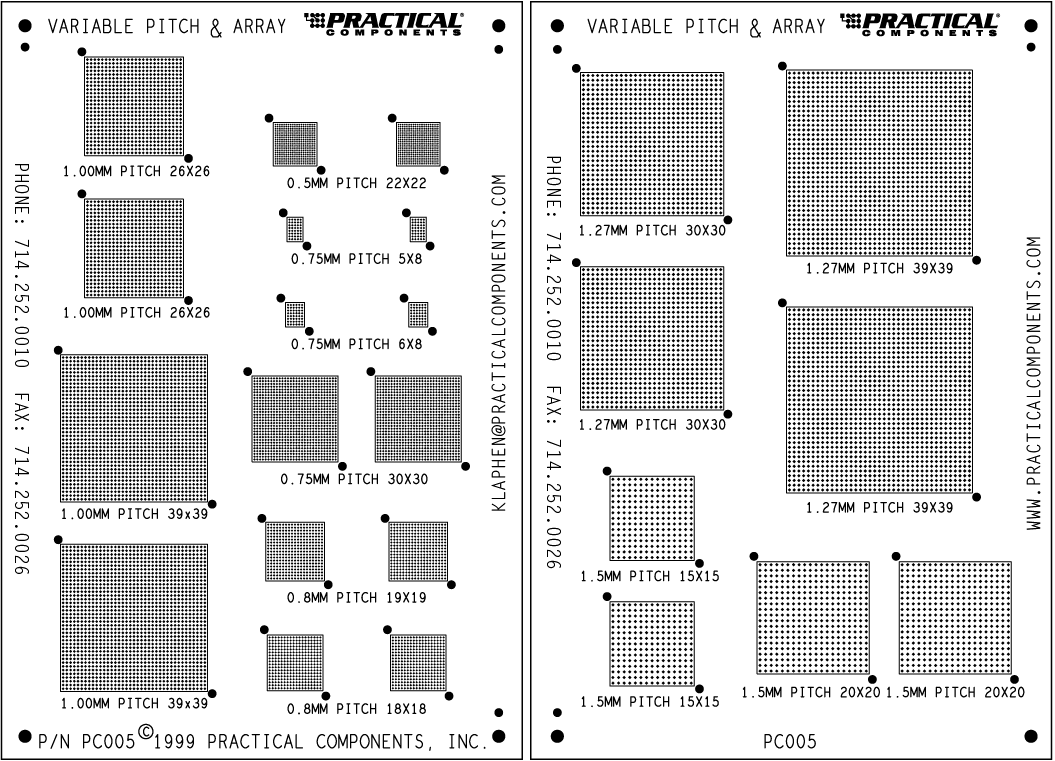 Mix and match components to configure your custom kit.
Practical Components is now offering a "one-of-a-kind" BGA Variable Pitch and Array PC Board. Each board contains matrices for the most popular ball pitches found on BGAs and CSPs. The use of full matrices allows maximum flexibility for placing parts with full, staggered, or perimeter configurations. Each board has a mixture of even and odd matrices to enable placement, using automatic equipment, of the highest ball counts available.
Solder practice test vehicle PCB boards and kits are used for machine setup, evaluation, qualification, workflow analysis, prototyping, testing, solder profiling.
Order Number: PCB005 (Board Only)
Notes
* Kits can be configured to the customer's requirements.
* Gerber Data and X, Y Theta Data are available if required at no charge.
* Digitized files provided by Aegis Software included at no charge.
Pad dimensions:
* 1.0mm pitch = 24 mil pad diameter
* 1.27mm pitch = 28–30 mil pad diameter
* 1.5mm = 28–30 mil pad diameter
* 0.5mm = 11 mil pad diameter
* 0.8mm = 18–19 mil pad diameter
* 0.75mm = 18 mil pad diameter