PCB000 Lead-Free Zero-Ohm SMD Resistor Kit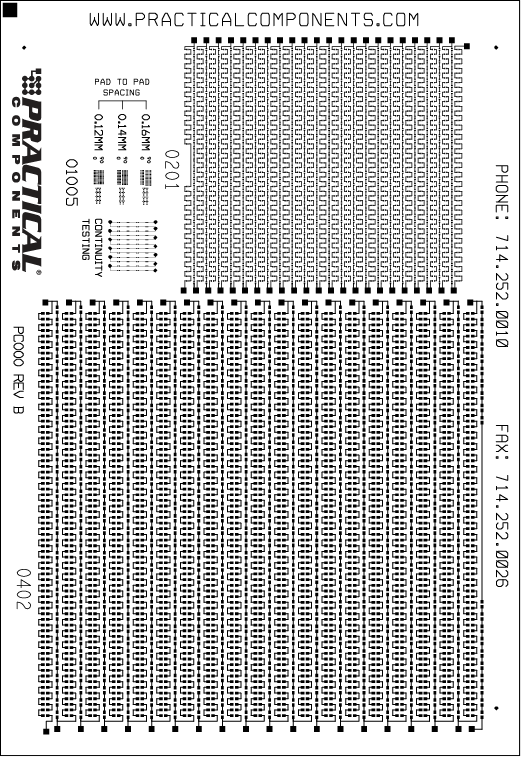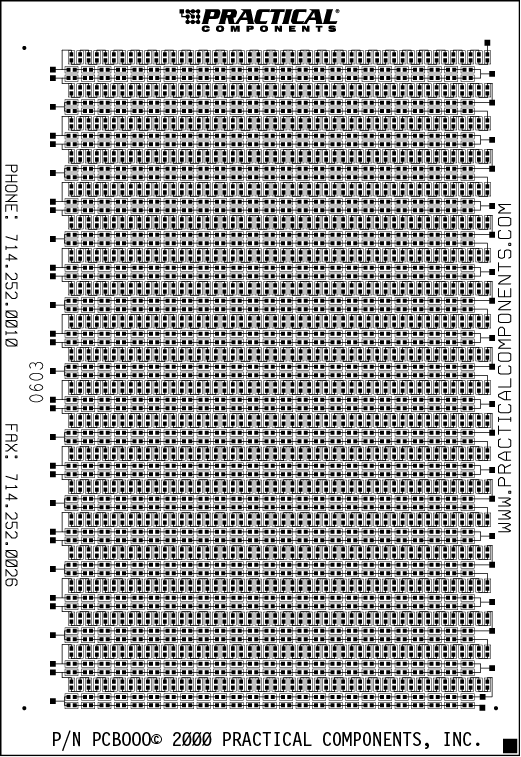 The PCB000 test board has land patterns for 01005, 0201, 0402, and 0603 Zero Ohm Lead-Free SMD Resistors. Each component pad is connected in series (daisy-chained) to the next pad. When zero ohm value resistors are placed on the pad, the result is a line of continuity. This test board can be used for placement accuracy evaluation with any type of component matching the physical size of the pads. Each component type has 2,000 pads, except for 01005 pad size which has 165 pads for Pick-n-Placement purposes only with four different pad spacing. There are also 48 pads for 01005 to test for continuity.
SMD Resistors with Zero-Ohm value, and SMD Capacitors can be used on this test board. Customers can mix and match components and quantities to create a custom kit. Please contact your Practical Components sales representative for details.
Solder practice test vehicle PCB boards and kits are used for machine setup, evaluation, qualification, workflow analysis, prototyping, testing, solder profiling.
Board size: 8" x 5.5", .062" thick.
IS-410 board material.
Standard finish is Immersion Silver.
Board finishes available are ENIG and Pb-free HASL.
Notes
* 01005SMR-PA-0-Sn part is not included in kit. Can be added to kit build upon request for additional price.
* Gerber and X, Y Theta data included at no charge.
* Digitized files provided by Aegis Software included at no charge.