PCB200-15mm-TC (Package on Package) 15mm Board and Kit - Thermal Cycle Lead Free Kit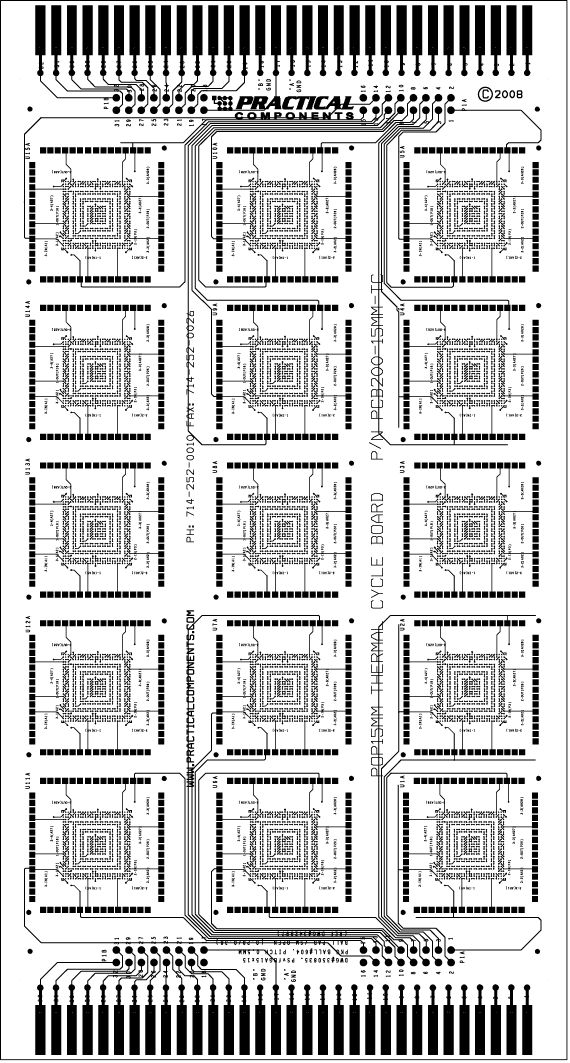 Discontinued Call for Information.
The 15mm Package on Package (PoP) Thermal Cycling Test Board is designed for use with Amkor's new 15mm PoP components. Both top and Bottom components can be mounted on the board and connected with a daisy chain pattern to the test board.
Thermal Cycling is a diagnostic test for electronic assemblies. The test is severe on solder joints that are under both compressive and tensile strain during cycling as a result of differential thermal expansion.
The new 15mm PoP Thermal Cycle Test will allow customers to conduct valuable process testing on new technology components. Customer are encouraged to visit the Practical Components website at www.practicalcomponents.com or Amkor website at www.amkor.com for additional technical information regarding the Amkor 15mm PoP components.
Solder practice test vehicle PCB boards and kits are used for machine setup, evaluation, qualification, workflow analysis, prototyping, testing, solder profiling.
Notes
* Board size is 215 x 115mm, 4–layers, .039" thick, no microvias.
* Board material is IS-410 High Temp. 180Tg.
* Standard board finish is OSP Entek CU-106A-HT.
* 15 daisy-chain pad placements for 15x15 604 PSvfBGA?component.
* Immersion Silver board finish is available upon special request. MOQ may apply.
* Gerber and X,Y Theta data included at no charge.
Order Number: 19952 PCB200-15mm-TC (board only)
Order Number: 31426 A-PoP160-.65mm-15mm-DC-LF-105 (top component only)
Order Number: 31427 A-PSvfBGA604-.5mm-25mm-DC-LF-125Ni (bottom component only)