Conformal Coating Process Flow Chart
Dummy Components And PCB Test Boards For Cleanliness And Conformal Coating Process Testing
Practical Components provides products and services for the testing and evaluation of Conformal Coating materials on assembled PCB test boards. Conformal coating has provided many benefits to high and reliability industries as well as commercial off the shelf products being used in extreme environments. Changes in technology have caused conformal coating to become more prevalent in different industries like telecommunications, automotive, and other hand held devices. All these products have befitted from the use of coatings for environmental protection and product enhancements.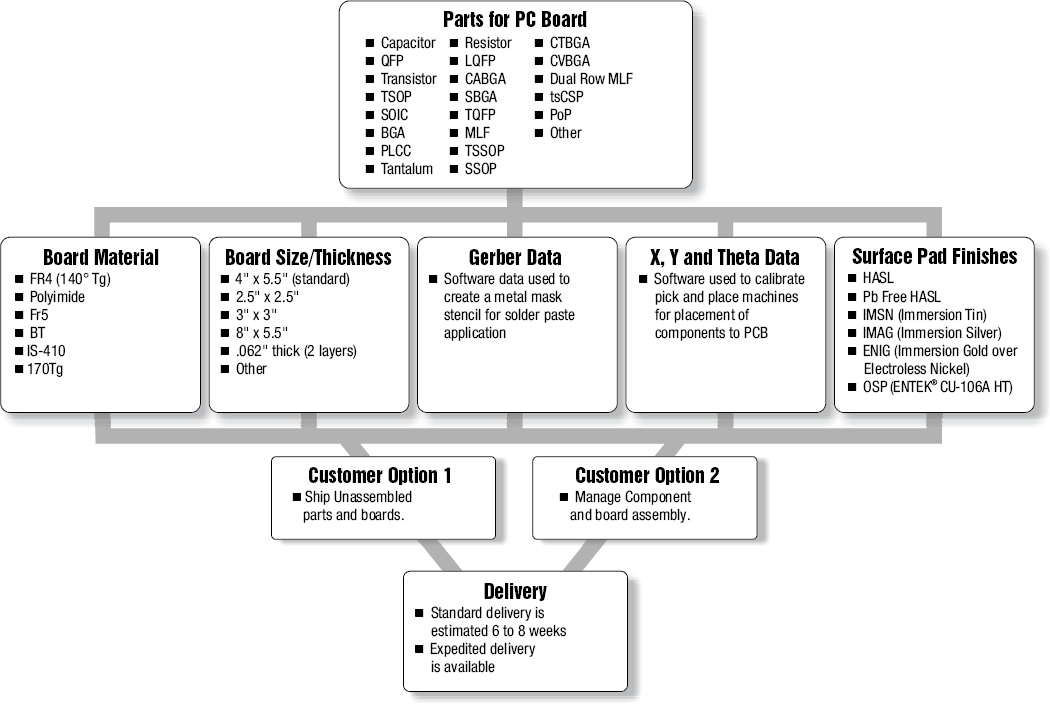 Practical Components products can be effective in the following areas:
* Is conformal coating necessary?
* Clean or no clean
* SIR testing
* Coating process options
* Coating reliability
* Coating material evaluation
* Correct design for costing application
* Masking options
* Inspection and quality control of coating
* Repair and rework of PCB assemblies
The products and services provided by Practical Components in support of the evaluation items listed above are:
* Dummy Components including IC, Passives, transistors, connections or special items as requested
* Test PCB dummy boards, made to any size, thickness, material, or special requirements as requested
* Assembly of dummy components to the test PCB boards
* Design of the PCB board to customer's exact specifications
* Management of the procurement process and supply chain
All Practical Components supplies products are fully guaranteed. Our products are made to the exact equivalent of live components, without the internal live die or electrically functioning board. This significantly lowers the cost of the components and test boards. Practical Components can be one stop shop from board design and layout to completed assemblies read for coating. You can be focused on the coating not the logistical chain of acquiring testing assemblies.