Adjustable Matrix Trays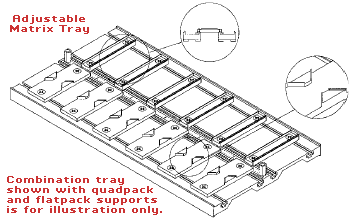 Features
Hold any size quadpack or flatpack up to 4" long.
Plastic supports are molded in PPA with carbon fiber with a surface resistivity of 10E5-10E7 ohm/ch, are non-sloughing and tolerate

170°C.

Tray and cover are extruded aluminum, finished in ESD safe, clear chromate.
ESD foam with conductive film in the cover for cushioning and component thickness variations.
Standard unit measures 6" x 12" x 1" with cover.
Thumb screws lock the cover to the base.
Standoffs on each end for easy location and locking to the cover.
Patent No. 5,370,225.
Optional Pick and Place Mode
Quads only, must be square.
Orients devices in accurately registered X–Y positions.
Interfaces with standard pick and place machines, e.g. Zevatech, Fuji, Quad, etc.
Overall length of .400" less cover.
Maximum Capacity For Square Quadpacks
Maximum Body
Dimensions
Number of Pieces
Per Row
.580 inches
7
1.026 inches
6
1.480 inches
5
1.875 inches
4
2.125 inches
3
Order Numbers
Product
Order
Number
Base w/cover for 10 Quadpacks
AMT-6x12 QP
Base w/cover for 10 Flatpacks
AMT-6x12 FP
Base w/cover for bottom brazed pkgs
AMT-6x12 QP-B
Base w/cover P&P for automation (QFP)
AMT-6x12 QP-A
Base, no cover, no supports
AMT-B1
Cover only with anti-static foam
AMT-C1
Anti-static foam
AMT-A1
Quadpack molded support w/hardware
AMT-QP
Flatpack molded support w/hardware
AMT-SS
Call for quantity price breaks