Which Practical Kits are available as Single Pack Hand Solder Kits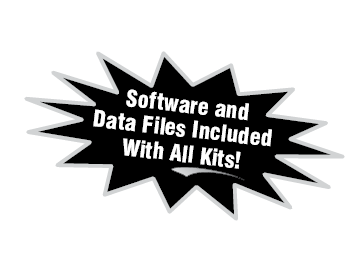 The kits listed below are for Hand Assembly.
Each kit is prepackaged as an individual kit.
Each component is bagged and labeled for identification.
The test board is also individually bagged.
Both kit and test board are put in a cardboard box that identifies the kit contents.
Kits can be customized to meet specific needs.
Please call 714-252-0010 regarding availability of Lead-Free single pack soldering kits.
Reference List for Single Pack Kits
Part Number
Tin-Lead / Lead-Free
Kit Part Description
Description
IPC
Reference
Page
Number
10680 / 12086
PC003
Hand Solder Kit, 2.5" square
92
13100 / 19314
PC007T-0-01
MLF Hand Assembly Kit
94
13200 / 19990
PC007B-0-01
SMT Hand Assembly Kit (T/LQFP, TSOP, BGA, DualRowMLF)
94
13300 / 19463
PC007K-0-01
MLF / Fine Pitch SMT (top and bottom)
94
12041 / 16561
PC009
Mixed Technology Kit
98
19697 / 16795
PC011-0-01
Fine Pitch BGA Kit (0.4, 0.5, 1.0mm)
99
15848 / 19742
PC012-0-01
Global BGA Test Kit (1.0mm and 1.27mm pitch)
100
15923 / 19462
PC012T-0-01
Global BGA Test Kit (topside only, 1.0mm pitch)
100
15924 / 19991
PC012B-0-01
Global BGA Test Kit (bottomside only, 1.27mm pitch)
100
15212 / 16792
PC013-K
Through Hole Kit (with wires and terminals)
102
15213 / 16791
PC013-BTK
Through-Hole Kit (no wires or terminals)
100
15214 / 19409
PC013-RWTK-1
Recertification Kit (with wires and terminals)
100
15215 / 19308
PC013-RK
Recertification Kit (no wires or terminals)
100
15226 / 15227
PC015-0-01-STD
Rework Kit (unassembled)
7711/7721
104
11450 / 11444
PC015-0-01-RWK
Rework Kit (assembled)
7711/7721
104
15223 / 15225
PC016-J-STD
Mixed Tech Kit
J-Std-001 Rev E
105
15220 / 15224
WTK-1
Wires and Terminals (with or without holder)
89